Health, Safety and Wellbeing
How we're ensuring that our employees are happy, healthy and thriving
We refuse to believe that workplace accidents and occupational illnesses are unavoidable and strive for Zero Accidents and Zero Occupational Illnesses as part of our SAFETY Excellence programme.
Our projects and services on every worksite encompass everyone we work with – and whether a subcontractor or client, they are all part of our safety culture.
High safety standards go hand in hand with quality, productivity and efficiency and overall performance – and offer peace of mind to our clients as well as protecting our employees.
Through transparency and the full investigation of high potential near misses we promote shared learning and are continually striving to be better than we were yesterday.
Since January 2021, we have been working with mental health charity Mind to implement its six core Mental Health at Work
Anyone who leads or influences a team has access to training on the role of managers in fostering supportive cultures at work, building resilience, skills to look after themselves while helping others and providing sources of support and information, such as a wellness action plan.
Wellbeing Champions in each business unit maintain a Wellbeing Calendar of events and initiatives to help their team stay feeling happy, connected and valued in their work.
Through the VINCI United Heroes activity app, employees can also challenge each other to run, walk, meditate or pick up rubbish with points earned converted into donations to the Mécénat Chirurgie Cardiaque charity for children born with heart defects.
Cycle to Work schemes and office running clubs provide opportunities for employees to keep active by themselves or as a group.
As part of their package, employees enjoy a private health benefit such as allowing them access to an online private GP.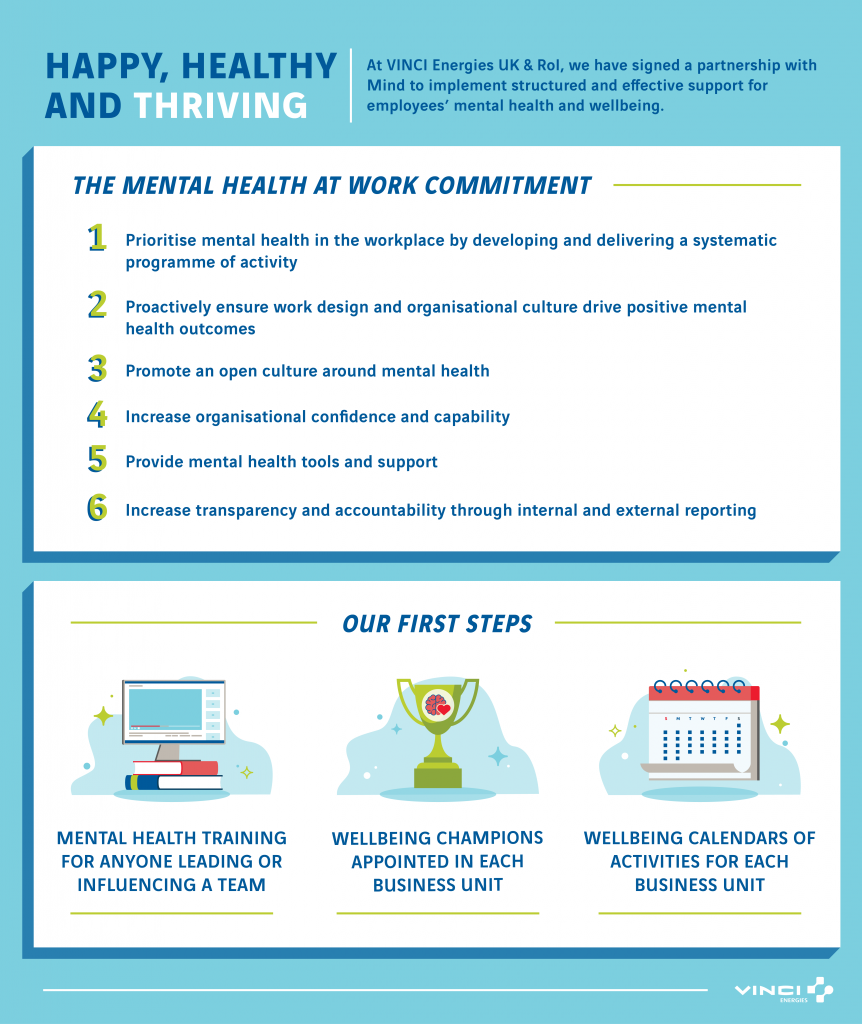 We value diversity as different backgrounds and perspectives spark innovation and creativity, driving our business forwards.
In our decentralised business model with human-sized business units, employees are trusted and empowered to make an impact and excel.
Our community fosters entrepreneurial spirit and encourages employees in their personal development to achieve their ambition at a pace they set.
We offer everyone the same training and career development opportunities, regardless of their background. What matters is employees' motivation and passion for the job.
We fight all forms of discrimination in hiring, in workplace relations and in the career paths of our employees to ensure that everyone has the opportunity to thrive.
We are actively taking steps to improve gender balance, aspiring for at least 25% of the new engineers we hire to be women.